23.
Perpetual Motion
A chain running over the wheels, B, B, is deflected by the idle wheel, D, causing a longer length and weight of chain on that side in proportion to the chain on the straight side A, and like the thousand and one others was expected to go.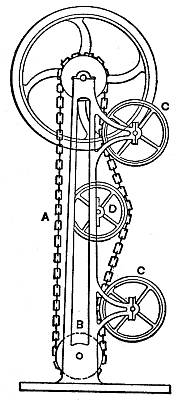 (Subsection 919, from p.367)

From: Gardner D. Hiscox, M.E., Mechanical Appliances and Novelties of Construction (1927), Norman W. Henley Publ. Co.
---


---