23.
Perpetual Motion
Extending weights and water transfer
The stationary sector gear, A, rolls the small pinions which, by a rod connection with the following edge of the hinged weights on the periphery of the wheel, tilt the weights upward and outward, making a preponderance on that side of the wheel. The same operation also opens and closes a series of water bags on the inner rim of the wheel, each bag being connected to the opposite bag by a tube, thus adding additional weight to the right-hand side of the wheel.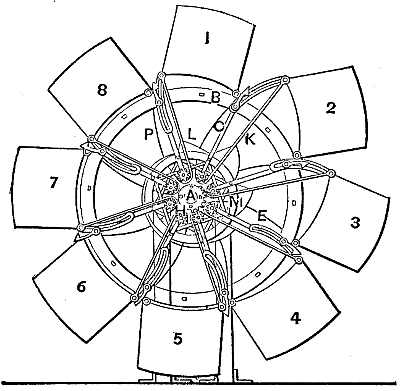 (Subsection 943, from p.377)
From: Gardner D. Hiscox, M.E., Mechanical Appliances and Novelties of Construction (1927), Norman W. Henley Publ. Co.
---


---