23.
Perpetual Motion
The lever, A, is represented in the act of falling from the periphery of the wheel into a right line. The lever is composed of a series of flat rods, connected by ruler joints, which said ruler joints are provided with a stop or joggle, to prevent their collapsing at any time more than will bring anyone of the rods which compose the levers at a right angle with the rod next to it.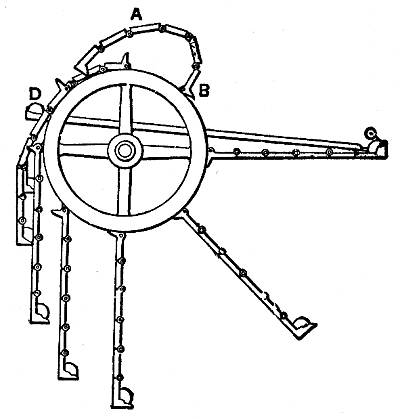 This lever is attached to the periphery of the wheel by the hinge joint, B, provided with the shoulder, to prevent its falling into any other than a right line from the center of the circumference of the wheel. The levers are furnished at their outer extremities with a bucket or receiver, the bottom of which is sufficiently broad to retain the ball C. The balls remain in the buckets till the buckets come into the position of the lever, D, when they are expected to roll out of the buckets on to the inclined plane, and by their own gravity roll to the other end of the inclined plane, ready to be again taken into the buckets. Patented in 1821.
(Subsection 918, from p.367)

From: Gardner D. Hiscox, M.E., Mechanical Appliances and Novelties of Construction (1927), Norman W. Henley Publ. Co.
---


---