23.
Perpetual Motion
Revolving tubes and balls
The balls, A and B, are in equilibrium because they are at an equal distance from the vertical line that passes through the center E. By the construction of the machine, the ball, D, being, on the contrary, more distant from the point of support than the ball, C, must prevail over the latter and break the equilibrium.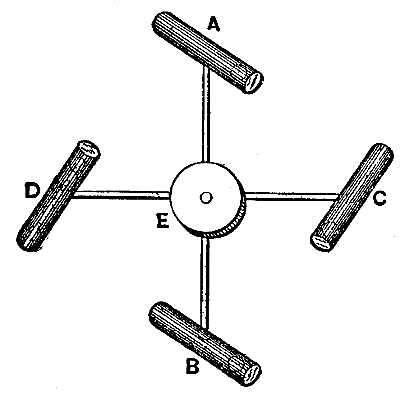 It must then descend to the point, B, and cause the apparatus to make a quarter revolution. Now, the latter can not take place without the rod, A, B, which was situated vertically, assuming a horizontal position, and then the balls, A and B, are to each other as were the balls D, C. One must overcome the other and cause the apparatus to make another quarter revolution. This second quarter revolution can not take place without being followed by a third, through the new position assumed by the balls A, B. Specious argument of the inventor.
(Subsection 927, from p.370)

From: Gardner D. Hiscox, M.E., Mechanical Appliances and Novelties of Construction (1927), Norman W. Henley Publ. Co.
---


---