23.
Perpetual Motion
It is an end-less rubber tube, with projections, on which are fastened thin rubber bags, and a small weight attached to each bag. The bags are filled with air when the weight hangs down, and when it comes on top it presses the air out and through the hollow projection and tube into the next bag that comes in position.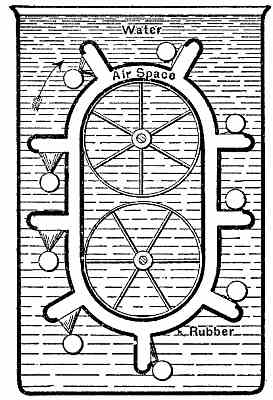 When placed over two wheels in water, the bags filled with air should be lighter and rise, while the other side, with the air forced out, should sink. Each bag, as it comes into position at the bottom of the left tube, will be filled with air expelled from a bag at the top. The weights will descend a certain amount, one in expanding and the other in contracting the bag.
(Subsection 946, from p.379)
From: Gardner D. Hiscox, M.E., Mechanical Appliances and Novelties of Construction (1927), Norman W. Henley Publ. Co.
---


---