23.
Perpetual Motion
English patent (1832) in which a verbose description is given of chain buckets driven by water from a tank, which revolves a R geared wheel and pinion and by a cam sustains the vibration of a heavy pendulum, to which is attached a sector beam, pump chains, and counterweights that operate pumps for returning the water to the upper tank.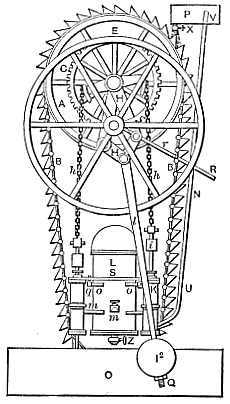 (Subsection 944, from p.378)
From: Gardner D. Hiscox, M.E., Mechanical Appliances and Novelties of Construction (1927), Norman W. Henley Publ. Co.
---


---