23.
Perpetual Motion
Another solution of the water-wheel problem, to be obtained by multiplying the number of wheels, which makes the thing sure to work. The siphon, P, discharges water upon the upper wheel, and by the aprons, V and W, successively to the second and third wheel; all of the wheels are connected to a walking beam by crank and pitman, thus operating a pump for the water supply. Patented in 1831.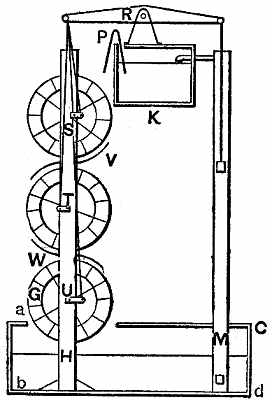 (Subsection 936, from p.374)
From: Gardner D. Hiscox, M.E., Mechanical Appliances and Novelties of Construction (1927), Norman W. Henley Publ. Co.
---


---