(source)

William P. Lear

(26 Jun 1902 - 14 May 1978)




William P. Lear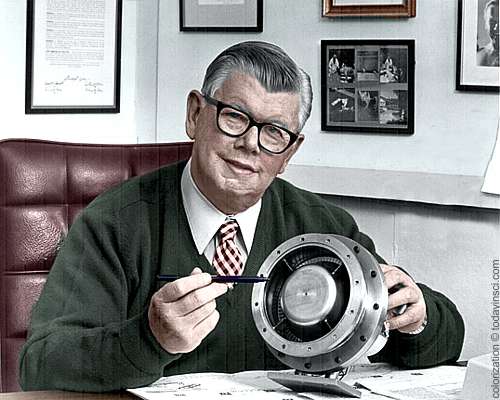 William Powell Lear was born in Hannibal, Missouri. From his early youth, his hobby was putting things together, and instead of toys was creative with batteries, light bulbs and bits of wire. He was only 12 when he had built his own radio set with earphones. Instead of finishing high school, he joined the Navy at age 16 (by lying about his age) during World War I.
After the war, he learned flying. He gained skills as a telegraph operator, a capable auto mechanic, an aviation mechanic at Chicago's Grant Park Airport, and learned about radio electronics as a ham radio operator. He also was a radio salesman for a while, and rebuilt a radio station at his grandmother's church.
From this experience there germinated a distinguished career, using his creative genius and entrepreneurship in the fields of aviation communications and navigation equipment. Beginning in 1930, over a 20 year period, he secured more than 100 patents for aircraft radios, communications and navigation equipment.
Strive for design simplicity. You never have to fix anything you leave out.
William P. Lear
Although his name is now eponymous for corporate jet airplanes, his first commercial venture was in electronics. In 1922, at the age of 20, he founded his first company - the Quincy Radio Laboratory. He designed a non-battery home radio receiver with a built-in speaker. Lear and his friend Elmer Wavering built the first car radio, the Lear-o-scope which, in 1924, he sold to the new Motorola Corporation for mass production. For Motorola, it was their first major product (The name "Motor-ola,"was short for "motor victrola.")
In 1934, he enjoyed success again with a single, universal all-wave radio amplifier design that was purchased by RCA, who could use it throughout their radio product range. He also expanded into designing aircraft navigation equipment with his new companies, Lear Corp. and LearAvia Corporation.
During World War II, his companies handled more than $100 million for military needs. It has been said that every U.S. fighter, bomber or cargo plane incorporated at least one piece of Lear equipment.
He put his name on the Learmatic Navigator in 1940, a radio direction finder. It provided pilots a way to automatically hold a course by tuning in to any kind of radio broadcast. This invention earned the prestigious Frank M. Hawks Memorial Award.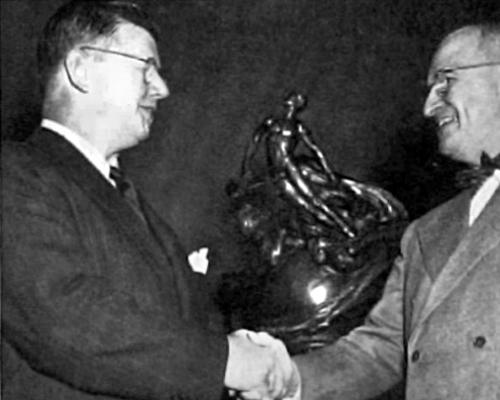 President Truman congratulates Lear for winning the Collier aviation trophy (1950).
From Saturday Evening Post (13 Oct 1956), p.27
In the post-war years, Lear's company turned out several designs of lightweight autopilots for fighter aircraft. By adding an approach coupler, he created another important first—an autopilot for jets—a device controlling fully automatic landings in low visibility conditions. This accomplishment was recognized as the most outstanding aeronautical achievement of the year 1950. He was presented with the Robert J. Collier Trophy by President Truman for "the greatest achievent in aviation in America."
In 1962, his latest design - an autopilot for the Caravelle jetliner - made possible the first completely automatic blind landings of a passenger airplane. For this, he was honored by the French government.
Also in 1962, he sold his interest in Lear, Inc. to form Learjet. He designed his Learjet to be lighter, faster and less costly than any airplane of its type. The first Learjet flight took to the air for its first flight on 8 Oct 1963. It quickly established a solid reputation as a corporate jet aircraft. By 1975, over 500 Learjets had been delivered.
Not all his inventions were so prestigious. In the 1960s, the eight-track tape player (using a cassette loaded with an endless loop of magnetic tape) was his creation. Fortunately for his name, it wasn't known as the "Lear Deck," because the product had a short commercial life. For a time it was popular in cars and trucks because it provided two hours of playing time without needing rewinding or flipping. Nevertheless, it was superceded by cassette tape players.
In the 1970s his aircraft designs included the Canadair Challenger and the Lear Fan, an airplane built entirely from composites. Lear died during development of the Lear Fan, and although there were a number of advance orders it was never put into production.
Showing his wide-ranging inventiveness, Lear spent millions of dollars to produce a modern steam-powered car. He wasn't interested whether it would be a money-making enterprise—he had already made several fortunes and had five homes. In fact, Lear was just happy to be engaged in a project to help him shake off a period of depression. This followed surviving near-death health problems during which he lost he right eye. As reported in Life magazine, "I needed something to keep me out of trouble." So, that purpose was accomplished, though it produced no worthwhile steam-powered vehicle. Life described his Reno plant as strew with the remains of mistakes—boilers, compressors, pumps, engine blocks:
I call this my junk pile. It doesn't tell me what I can do, but it tells me what I can't do. That's worth a lot.
William P. Lear
Before Lear died in 1978, he had also designed the Canadair Challenger aircraft, and investigated increasing fuel efficiency using entirely composite carbon fiber materials developing the Lear Fan jet (which never reached production). It had a single, rear-mounted propeller, and its goal was to transport 8 to 10 passengers at over 400 mph, with a fuel consumption aimed to be 10 miles a gallon.
Two months after his death, Lear was named to the Aviation Hall of Fame. In 1981, Lear was invested in the International Aerospace Hall of Fame, and in 1993 joined the National Inventors Hall of Fame.
Text by Webmaster.
See also:
Science Quotes by William P. Lear.
26 Jun - short biography, births, deaths and events on date of Lear's birth.