(source)

John Fowler

(11 Jul 1826 - 4 Dec 1864)




John Fowler - Plough Patent
From Patents for Inventions; Abridgments (1884)
A.D. 1852, October 21.—No. 480.
FOWLER, JOHN—"Machinery for draining land."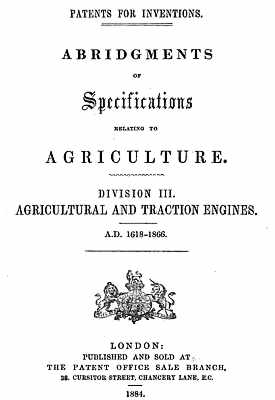 [p.37] The invention relates to machinery for forming drains in land by steam power and consists in so arranging the parts that "the boiler, steam-engine, and coulter or cutter are all combined and go together, the steam-engine giving motion to a drum to wind on a wire rope, and thus to move itself up to an anchor or fixed point on the land." The machine is furnished with an upright coulter and a shoe or share for [p.38] forming the drain and drawing a continuous series of drain tiles into it, like the apparatus described in Nos. 12,989, A.D. 1850, and 13,285, A.D. 1850. A steam-engine and boiler are fixed upon the carriage, which travels on four broad wheels, and carries at its front end a large drum. On the crank shaft driven from the steam cylinder are four eccentrics, and these, by suitable connecting rods acting on a ratchet wheel on the drum shaft, impart a "step-by-step" motion thereto. The end of a wire rope is conducted from the drum to the opposite side of the field, passed round a pulley attached to an anchor or holdfast, and then brought back and fastened to the frame of the carriage; so that on the drum being put in motion by the engine, it winds up the rope, and draws the machine towards the anchor. If greater speed be required, the pulley is dispensed with, and the end of the rope is secured to the anchor. When the machine has arrived at the anchor, the power of the engine is applied to turn a small drum, round which is passed a rope from an anchor situated at the place where the machine is to recommence its action; and as the carriage is thus drawn back to the opposite side of the field, the large drum pays out or delivers its rope in readiness for the next forward movement of the machine. The patentee states that for some purposes he prefers to perform the operation of delivering or paying out the rope from the large drum by turning the front wheels by any convenient gearing worked by the engine, so that the bite of such wheels upon the land shall act to drive the machine in the requisite direction. This arrangement also serves for the transport of the machine from place to place along common roads.

Text from Commissioners of Patents for Inventions,
Patents for Inventions; Abridgments of Specifications Relating to Agriculture, Division III, Agricultural and Traction Engines, A.D. 1618-1866
, (1884), 37-38.
(source)