(source)

Sir William Cecil Dampier

(27 Dec 1867 - 11 Dec 1952)




Science Quotes by Sir William Cecil Dampier
(7 quotes)
But beyond the bright searchlights of science,
Out of sight of the windows of sense,
Old riddles still bid us defiance,
Old questions of Why and of Whence.

— Sir William Cecil Dampier

Great discoveries are made accidentally less often than the populace likes to think.

— Sir William Cecil Dampier

In early times, when the knowledge of nature was small, little attempt was made to divide science into parts, and men of science did not specialize. Aristotle was a master of all science known in his day, and wrote indifferently treatises on physics or animals. As increasing knowledge made it impossible for any one man to grasp all scientific subjects, lines of division were drawn for convenience of study and of teaching. Besides the broad distinction into physical and biological science, minute subdivisions arose, and, at a certain stage of development, much attention was, given to methods of classification, and much emphasis laid on the results, which were thought to have a significance beyond that of the mere convenience of mankind.
But we have reached the stage when the different streams of knowledge, followed by the different sciences, are coalescing, and the artificial barriers raised by calling those sciences by different names are breaking down. Geology uses the methods and data of physics, chemistry and biology; no one can say whether the science of radioactivity is to be classed as chemistry or physics, or whether sociology is properly grouped with biology or economics. Indeed, it is often just where this coalescence of two subjects occurs, when some connecting channel between them is opened suddenly, that the most striking advances in knowledge take place. The accumulated experience of one department of science, and the special methods which have been developed to deal with its problems, become suddenly available in the domain of another department, and many questions insoluble before may find answers in the new light cast upon them. Such considerations show us that science is in reality one, though we may agree to look on it now from one side and now from another as we approach it from the standpoint of physics, physiology or psychology.

— Sir William Cecil Dampier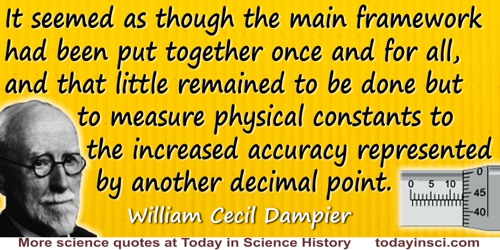 It seemed as though the main framework had been put together once and for all, and that little remained to be done but to measure physical constants to the increased accuracy represented by another decimal point.

— Sir William Cecil Dampier

The fundamental concepts of physical science, it is now understood, are abstractions, framed by our mind, so as to bring order to an apparent chaos of phenomena.

— Sir William Cecil Dampier

There is only one nature—the division into science and engineering is a human imposition, not a natural one. Indeed, the division is a human failure; it reflects our limited capacity to comprehend the whole.

— Sir William Cecil Dampier

There seems no limit to research, for as been truly said, the more the sphere of knowledge grows, the larger becomes the surface of contact with the unknown.

— Sir William Cecil Dampier