John Armstrong

(1709 - 7 Sep 1779)




JOHN ARMSTRONG, M.D.
[born 1709] 1732*-1779.
From
The Leading Poets of Scotland: From Early Times

, by Walter Jenkinson Kaye, 1891

BY THOS. WILMOT, L.R.C.P. LOND. M.R.C.S.

HONORARY ASSISTANT MEDICAL OFFICER TO THE BRADFORD INFIRMARY;
LATE HOUSE SURGEON AND HOUSE PHYSICIAN TO THE BRADFORD INFIRMARY.
---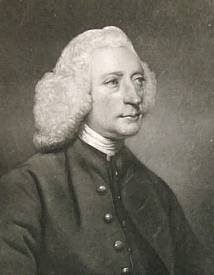 John Armstrong - mezzotint by Edward Fisher from a painting by Sir Joshua Reynolds.
DR. ARMSTRONG was born in the parish of Castleton, Roxburgshire, where his father and brother were clergymen. Having completed his education at the University of Edinburgh, he took his degree in physic, February 4th, 1732, "with much reputation." He appears to have courted the Muses while a student.
Much of his time, if we may judge from his writings, was devoted to the study of polite literature, and although he cannot he said to have entered deeply into any particular branch, he was more than a superficial connoisseur in painting, statuary, and music. In early life Dr. Armstrong removed to London where, in 1735 he published anonymously an octavo pamphlet entitled "An Essay for abridging the Study of Physic." This was followed by several pamphlets either in prose or verse, some of which enjoyed a rapid and extensive sale.
His celebrated poem "The Art of Preserving Health," appeared in 1774 and contributed highly to his fame as a poet. Dr. Warton in his reflections on Didactic Poetry, annexed to his edition of Virgil, observed that "To describe so difficult a thing, gracefully and poetically, as the effects of distemper on the human body, was reserved for Dr. Armstrong. There is a classical correctness and closeness of style in this poem that are truly admirable, and the subject is raised and adorned by numerous poetical images." Dr. Mackenzie, in his "History of Health," bestowed similar praises on this poem, which was indeed everywhere read and admired.
In 1746 he was appointed physician to the Hospital for Lame and Sick Soldiers, behind Buckingham House.
In 1751 he published his poem on "Benevolence," a production which seems to come from the heart, and contains sentiments which could have been expressed with equal ardour only by one who felt them. In 1753 he produced "Taste: an Epistle to a Young Critic." This is a lively and spirited imitation of Pope, and the first production in which our author began to view men and manners with a splenetic eye. In 1758 his "Sketches: or Essays on various subjects," appeared under the nom de plume of Lancelot Temple, Esq. It is supposed that in these articles Dr. Armstrong was assisted by the celebrated John Wilkes, with whom he was on most friendly terms.
In 1760 the doctor was appointed physician to the army in Germany, where in 1761 he wrote a poem called "Day," addressed to Mr. Wilkes. After the peace, Dr. Armstrong resided some years in London, where his practice was confined to a small circle, but where he was respected as a man of general knowledge and taste, and an agreeable companion.
In 1770 he published two volumes of "Miscellanies," containing most of the articles already mentioned, and several others of later date. These were "Imitations of Shakespeare and Spenser," "The Universal Almanack" and "The Forced :Marriage: a tragedy." In 1771, be published an extraordinary effusion of spleen, under the title of "A Short Ramble through some parts of France and Italy." The ramble he took in company with Mr. Fuseli, the celebrated painter. In 1773, under his own name, and unfortunately for his reputation, appeared a volume of "Medical Essays," in which, "while he condemns theory, he plunges in all the uncertainties of theoretical conjectures."
Dr. Armstrong died at his house in Russell Street, Covent Garden, on September 7th. 1779. His death was attributed to contusion of the thigh, whilst getting into the carriage which brought him to town from a visit to Lincolnshire. To the surprise of his friends he left behind him more than £3000, saved out of a very moderate income arising principally from his half-pay.
His character is said to have been that of a man of learning and genius, of considerable abilities in his profession, of great benevolence and goodness of heart, and fond of associating with men of parts and genius. He was intimate with Mallet and Thomson ... and other poets and literary men of that period. His fame as a poet must depend entirely on his "Art or Preserving Health," which, although liable to some of the objections usually offered against didactic poetry, is yet free from the weightiest; and in this respect be may be deemed more fortunate, as he certainly is superior to Philips, Dyer, and Grainger.
---
An Imitation of Spenser.
Written by desire for the Poet Thomson to be inserted in the Castle of Indolence
FULL many a fiend did haunt this house of rest,
And made of passive wights an easy prey.
Here lethargy with deadly sleep opprest,
Stretch'd on his back, a mighty lubbard lay,
Heaving his sides, and snored night and day:
To stir him from his traunce it was not eath,
And his half-opened eye he shut straightway:
He led I ween the softest way to death,
And taught withouten pain or strife to yield the breath.

Of limbs enormous, but withal unsound,
Soft, swoll'n, and pale, here lay the Hydropsie;
Unwieldy man, with belly monstrous round
For ever fed with watery supply;
For still he drank, and yet he still was dry,
And here a moping mystery did sit, .
Mother of Spleen, in robes of various dye:
She call'd herself the Hypochondriac Fit,
And frantic seem'd to some, to others seem'd a wit.

A lady was she whimsical and proud,
Yet oft thro' fear her pride would crouchen low,
She felt or fancied in her fluttering mood
All the diseases that the vitals know,
And sought all physic that the shops bestow;
And still new leeches and new drugs would try.
'Twas hard to hit her humour high or low,
For sometimes she would laugh and sometimes cry,
Sometimes would waxen wroth, and all she knew not why.

Fast by her side a listless virgin pin'd,
With aching head and squeamish heartburnings;
Pale, bloated, cold, she seemed to hate mankind,
But loved in secret all forbidden things,
And here the Tertian shook his chilling wings,
And here the Gout, half tiger, half a snake,
Rag'd with an hundred teeth, an hundred stings,
These and a thousand furies more did shake
Those weary realms, and kept ease-loving men awake.
---
We give the concluding lines of Dr. Armstrong's Poem
The Art of Preserving Health.
A POET he, and touched with heaven's own fire,
Who, with bold rage or solemn pomp of sounds,
Inflames, exalts, and ravishes the soul;
Now tender, plaintive, sweet almost to pain,
In love dissolves you; now in sprightly strains
Breathes a gay rapture thro' your thrilling breast;
Or melts the heart with airs divinely sad;
Or wakes to horror the tremendous strings,
Such was the Bard, whose heavenly strains of old
Appeas'd the fiend of melancholy Saul.
Such was, if old and heathen fame say true,
The man who bade the Theban domes ascend,
And tam'd the savage with his song;
And such the Thracian, whose melodious lyre
Tun'd to soft woe, made all the mountains weep;
Sooth'd even th' inexorable powers of hell,
And half redeem'd his lost Eurydice,
Music exalts each joy, allays each grief,
Expels diseases, softens every pain,
Subdues the rage of poison and the plague;
And hence the wife of ancient days ador'd
One power of physic, melody, and song.
* The original text gives the birth year as 1732, apparently in error, as the correct year of birth for John Armstrong is 1709. Image was not part of this text. To improve readability, text is shown with additional paragraph breaks. The ellipsis replaces a redundant "[q.v.]". Text from Walter Jenkinson Kaye,
The Leading Poets of Scotland: From Early Times
(1891), 13.
(source)
See also:
Science Quotes by John Armstrong.
7 Sep - short biography, births, deaths and events on date of Armstrong's death.