(source)

Edward O. Wilson

(10 Jun 1929 - )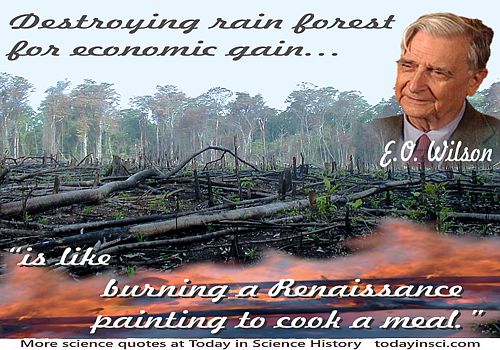 Lacandon jungle burned for agriculture in Chiapas, Mexico (by Jami Dwyer)
(source)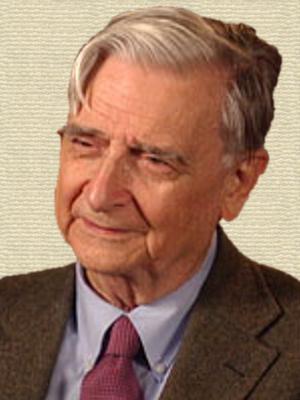 Biology is a science of three dimensions. The first is the study of each species across all levels of biological organization, molecule to cell to organism to population to ecosystem. The second dimension is the diversity of all species in the biosphere. The third dimension is the history of each species in turn, comprising both its genetic evolution and the environmental change that drove the evolution. Biology, by growing in all three dimensions, is progressing toward unification and will continue to do so.

— Edward O. Wilson

Biophilia, if it exists, and I believe it exists, is the innately emotional affiliation of human beings to other living organisms.

— Edward O. Wilson

From the freedom to explore comes the joy of learning. From knowledge acquired by personal initiative arises the desire for more knowledge. And from mastery of the novel and beautiful world awaiting every child comes self-confidence.

— Edward O. Wilson

I had this experience at the age of eight. My parents gave me a microscope. I don't recall why, but no matter. I then found my own little world, completely wild and unconstrained, no plastic, no teacher, no books, no anything predictable. At first I did not know the names of the water-drop denizens or what they were doing. But neither did the pioneer microscopists. Like them, I graduated to looking at butterfly scales and other miscellaneous objects. I never thought of what I was doing in such a way, but it was pure science. As true as could be of any child so engaged, I was kin to Leeuwenhoek, who said that his work "was not pursued in order to gain the praise I now enjoy, but chiefly from a craving after knowledge, which I notice resides in me more that most other men."

— Edward O. Wilson

I want us to save the creation—not just care about it, but to save it.

— Edward O. Wilson

If all mankind were to disappear, the world would regenerate back to the rich state of equilibrium that existed ten thousand years ago. If insects were to vanish, the environment would collapse into chaos.

— Edward O. Wilson

If history and science have taught us anything, it is that passion and desire are not the same as truth. The human mind evolved to believe in the gods. It did not evolve to believe in biology.

— Edward O. Wilson

In a purely technical sense, each species of higher organism—beetle, moss, and so forth, is richer in information than a Caravaggio painting, Mozart symphony, or any other great work of art.

— Edward O. Wilson

In the process of natural selection, then, any device that can insert a higher proportion of certain genes into subsequent generations will come to characterize the species.

— Edward O. Wilson

It may be argued that to know one kind of beetle is to know them all. But a species is not like a molecule in a cloud of molecules—it is a unique population.

— Edward O. Wilson

Known as the biosphere to scientists and as the creation to theologians, all of life together consists of a membrane around earth so thin that it cannot be seen edgewise from a satellite yet so prodigiously diverse that only a tiny fraction of species have been discovered and named.

— Edward O. Wilson

Let us see how high we can fly before the sun melts the wax in our wings.
About the ambitious pursuit of knowledge, alluding to Icarus of the Greek myth.

— Edward O. Wilson

No one knows the diversity in the world, not even to the nearest order of magnitude. … We don't know for sure how many species there are, where they can be found or how fast they're disappearing. It's like having astronomy without knowing where the stars are.

— Edward O. Wilson

No species … possesses a purpose beyond the imperatives created by genetic history … The human mind is a device for survival and reproduction, and reason is just one of its various techniques.

— Edward O. Wilson

Now when you cut a forest, an ancient forest in particular, you are not just removing a lot of big trees and a few birds fluttering around in the canopy. You are drastically imperiling a vast array of species within a few square miles of you. The number of these species may go to tens of thousands. ... Many of them are still unknown to science, and science has not yet discovered the key role undoubtedly played in the maintenance of that ecosystem, as in the case of fungi, microorganisms, and many of the insects.

— Edward O. Wilson

Populations of bacteria live in the spumes of volcanic thermal vents on the ocean floor, multiplying in water above the boiling point. And far beneath Earth's surface, to a depth of 2 miles (3.2 km) or more, dwell the SLIMES (subsurface lithoautotrophic microbial ecosystems), unique assemblages of bacteria and fungi that occupy pores in the interlocking mineral grains of igneous rock and derive their energy from inorganic chemicals. The SLIMES are independent of the world above, so even if all of it were burned to a cinder, they would carry on and, given enough time, probably evolve new life-forms able to re-enter the world of air and sunlight.

— Edward O. Wilson

The cutting of primeval forest and other disasters, fueled by the demands of growing human populations, are the overriding threat to biological diversity everywhere. (1992)

— Edward O. Wilson

The extinctions ongoing worldwide promise to be at least as great as the mass extinction that occurred at the end of the age of dinosaurs.

— Edward O. Wilson

The genes hold culture on a leash. The leash is very long, but inevitably values will be constrained in accordance with their effects on the human gene pool. The brain is a product of evolution. Human behavior—like the deepest capacities for emotional respone which drive and guide it—is the circuitous technique by which human genetic material has been and will be kept intact.

— Edward O. Wilson

The growth of a naturalist is like the growth of a musician or athlete: excellence for the talented, lifelong enjoyment for the rest, benefit for humanity.

— Edward O. Wilson

The time has come to link ecology to economic and human development. When you have seen one ant, one bird, one tree, you have not seen them all. What is happening to the rain forests of Madagascar and Brazil will affect us all.

— Edward O. Wilson

The worst thing that will probably happen—in fact is already well underway—is not energy depletion, economic collapse, conventional war, or the expansion of totalitarian governments. As terrible as these catastrophes would be for us, they can be repaired in a few generations. The one process now going on that will take millions of years to correct is loss of genetic and species diversity by the destruction of natural habitats. This is the folly our descendants are least likely to forgive us.

— Edward O. Wilson

To be anthropocentric is to remain unaware of the limits of human nature, the significance of biological processes underlying human behavior, and the deeper meaning of long-term genetic evolution.

— Edward O. Wilson

We are compelled to drive toward total knowledge, right down to the levels of the neuron and the gene. When we have progressed enough to explain ourselves in these mechanistic terms...the result might be hard to accept.

— Edward O. Wilson

[Bacteria are the] dark matter of the biological world [with 4 million mostly unknown species in a ton of soil].

— Edward O. Wilson

[Destroying rain forest for economic gain] is like burning a Renaissance painting to cook a meal.

— Edward O. Wilson

[The natural world cleans water, pollinates plants and provides pharmaceuticals, among many other gifts.] Thirty trillion dollars worth of services, scot-free to humanity, every year.

— Edward O. Wilson