Squirrel Quotes (4 quotes)
I have procured some of the mice mentioned in my former letters, a young one and a female with young, both of which I have preserved in brandy. From the colour, shape, size, and manner of nesting, I make no doubt but that the species is nondescript [not known to science]. They are much smaller and more slender than the mus domesticus medius of Ray; and have more of the squirrel or dormouse colour ... They never enter into houses; are carried into ricks and barns with the sheaves; abound in harvest, and build their nests amidst the straws of the corn above the ground, and sometimes in thistles.
[Part of his observations on the harvest mouse, which he was the first to describe as a new species.]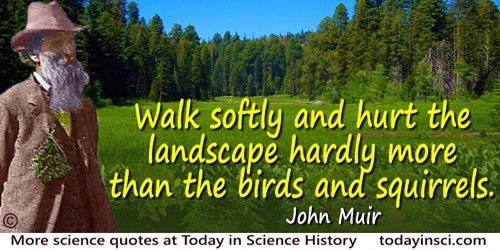 Crescent Meadow in Sequoia National Park
(source)
Indians walk softly and hurt the landscape hardly more than the birds and squirrels, and their brush and bark huts last hardly longer than those of wood rats, while their more enduring monuments, excepting those wrought on the forests by the fires they made to improve their hunting grounds, vanish in a few centuries.

Natural history is a matter of observation; it is a harvest which you gather when and where you find it growing. Birds and squirrels and flowers are not always in season, but philosophy we have always with us. It is a crop which we can grow and reap at all times and in all places and it has its own value and brings its own satisfaction.

On entering his [John James Audubon] room, I was astonished and delighted to find that it was turned into a museum. The walls were festooned with all kinds of birds' eggs, carefully blown out and strung on a thread. The chimney-piece was covered with stuffed squirrels, raccoons, and opossums; and the shelves around were likewise crowded with specimens, among which were fishes, frogs, snakes, lizards, and other reptiles. Besides these stuffed varieties, many paintings were arrayed on the walls, chiefly of birds.