Hide Quotes (13 quotes)
Die Gewohnheit einer Meinung erzeugt oft völlige Ueberzeugung von ihrer Richtigkeit, sie verbirgt die schwächeren Theile davon, und macht uns unfähig, die Beweise dagegen anzunehmen.
The habit of an opinion often leads to the complete conviction of its truth, it hides the weaker parts of it, and makes us incapable of accepting the proofs against it.

Dieu, c'est le voile mystérieux sous lequel nous cachons notre ignorance de la cause première.
God is the mysterious veil under which we hide our ignorance of the cause.

phusis kruptesthai philei
Nature loves to hide.

A multitude of words doth rather obscure than illustrate, they being a burden to the memory, and the first apt to be forgotten, before we come to the last. So that he that uses many words for the explaining of any subject, doth, like the cuttle-fish, hide himself, for the most part, in his own ink.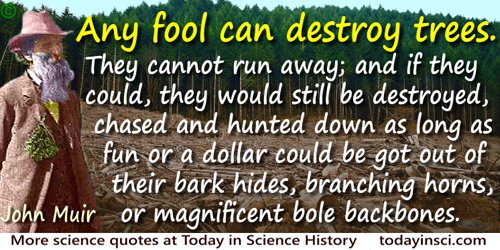 Any fool can destroy trees. They cannot run away; and if they could, they would still be destroyed,—chased and hunted down as long as fun or a dollar could be got out of their bark hides, branching horns, or magnificent bole backbones. Few that fell trees plant them; nor would planting avail much towards getting back anything like the noble primeval forests. During a man's life only saplings can be grown, in the place of the old trees—tens of centuries old—that have been destroyed.

I prefer the spagyric chemical physicians, for they do not consort with loafers or go about gorgeous in satins, silks and velvets, gold rings on their fingers, silver daggers hanging at their sides and white gloves on their hands, but they tend their work at the fire patiently day and night. They do not go promenading, but seek their recreation in the laboratory, wear plain learthern dress and aprons of hide upon which to wipe their hands, thrust their fingers amongst the coals, into dirt and rubbish and not into golden rings. They are sooty and dirty like the smiths and charcoal burners, and hence make little show, make not many words and gossip with their patients, do not highly praise their own remedies, for they well know that the work must praise the master, not the master praise his work. They well know that words and chatter do not help the sick nor cure them... Therefore they let such things alone and busy themselves with working with their fires and learning the steps of alchemy. These are distillation, solution, putrefaction, extraction, calcination, reverberation, sublimination, fixation, separation, reduction, coagulation, tinction, etc.

If the doctor cures, the sun sees it; but if he kills, the earth hides it.

If they needed to, twenty-five furtive cells could hide under this period.

It is hard to hide our genes completely. However devoted someone may be to the privacy of his genotype, others with enough curiosity and knowledge can draw conclusions from the phenotype he presents and from the traits of his relatives.

Let truth be a banner big enough to hide the man who holds it up.

Life is not a chain of events but an area—something spreading out from a hidden centre and welling at once toward all points of the compass.

To use Newton's words, our efforts up till this moment have but turned over a pebble or shell here and there on the beach, with only a forlorn hope that under one of them was the gem we were seeking. Now we have the sieve, the minds, the hands, the time, and, particularly, the dedication to find those gems—no matter in which favorite hiding place the children of distant worlds have placed them.
[Co-author with Dava Sobel.]

Truths are immortal, my dear friend; they are immortal like God! What we call a falsity is like a fruit; it has a certain number of days; it is bound to decay. Whereas, what we call truth is like gold; days, months, even centuries can hide gold, can overlook it but they can never make it decay.