(source)

Baron William Thomson Kelvin

(26 Jun 1824 - 17 Dec 1907)




Science Quotes by Baron William Thomson Kelvin
(16 quotes)
>> Click for Baron William Thomson Kelvin Quotes on | Mathematics | Measurement |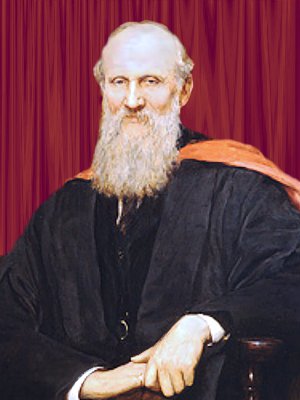 Lord Kelvin
Accurate and minute measurement seems to the non-scientific imagination, a less lofty and dignified work than looking for something new. But nearly all the grandest discoveries of science have been but the rewards of accurate measurement and patient long-continued labour in the minute sifting of numerical results.

— Baron William Thomson Kelvin

Do not imagine that mathematics is harsh and crabbed, and repulsive to common sense. It is merely the etherealisation of common sense.

— Baron William Thomson Kelvin

I can never satisfy myself until I can make a mechanical model of a thing. If I can make a mechanical model, I can understand it. As long as I cannot make a mechanical model all the way through I cannot understand.

— Baron William Thomson Kelvin

I have no satisfaction in formulas unless I feel their arithmetical magnitude.

— Baron William Thomson Kelvin

In physical science a first essential step in the direction of learning any subject is to find principles of numerical reckoning and practicable methods for measuring some quality connected with it. I often say that when you can measure what you are speaking about, and express it in numbers, you know something about it; but when you cannot measure it, when you cannot express it in numbers, your knowledge is of a meagre and unsatisfactory kind; it may be the beginning of knowledge, but you have scarcely in your thoughts advanced to the stage of science, whatever the matter may be.
Often seen quoted in a condensed form: If you cannot measure it, then it is not science.

— Baron William Thomson Kelvin

Let nobody be afraid of true freedom of thought. Let us be free in thought and criticism; but, with freedom, we are bound to come to the conclusion that science is not antagonistic to religion, but a help to it.

— Baron William Thomson Kelvin

Mathematics is the only good metaphysics.

— Baron William Thomson Kelvin

Mathematics is the only true metaphysics.

— Baron William Thomson Kelvin

Questions of personal priority, however interesting they may be to the persons concerned, sink into insignificance in the prospect of any gain of deeper insight into the secrets of nature.

— Baron William Thomson Kelvin

Simplification of modes of proof is not merely an indication of advance in our knowledge of a subject, but is also the surest guarantee of readiness for farther progress.

— Baron William Thomson Kelvin

The life and soul of science is its practical application, and just as the great advances in mathematics have been made through the desire of discovering the solution of problems which were of a highly practical kind in mathematical science, so in physical science many of the greatest advances that have been made from the beginning of the world to the present time have been made in the earnest desire to turn the knowledge of the properties of matter to some purpose useful to mankind.

— Baron William Thomson Kelvin

The only census of the senses, so far as I am aware, that ever before made them more than five, was the Irishman's reckoning of seven senses. I presume the Irishman's seventh sense was common sense; and I believe that the possession of that virtue by my countrymen—I speak as an Irishman.

— Baron William Thomson Kelvin

The vortex theory [of the atom] is only a dream. Itself unproven, it can prove nothing, and any speculations founded upon it are mere dreams about dreams.

— Baron William Thomson Kelvin

There is nothing new to be discovered in physics now. All that remains is more and more precise measurement.

— Baron William Thomson Kelvin

You, in this country [the USA], are subjected to the British insularity in weights and measures; you use the foot, inch and yard. I am obliged to use that system, but must apologize to you for doing so, because it is so inconvenient, and I hope Americans will do everything in their power to introduce the French metrical system. ... I look upon our English system as a wickedly, brain-destroying system of bondage under which we suffer. The reason why we continue to use it, is the imaginary difficulty of making a change, and nothing else; but I do not think in America that any such difficulty should stand in the way of adopting so splendidly useful a reform.

— Baron William Thomson Kelvin

[Referring to Fourier's mathematical theory of the conduction of heat] … Fourier's great mathematical poem…

— Baron William Thomson Kelvin

---
Quotes by others about Baron William Thomson Kelvin (9)
The saying often quoted from Lord Kelvin… that 'where you cannot measure your knowledge is meagre and unsatisfactory,' as applied in mental and social science, is misleading and pernicious. This is another way of saying that these sciences are not science in the sense of physical science and cannot attempt to be such without forfeiting their proper nature and function. Insistence on a concretely quantitative economics means the use of statistics of physical magnitudes, whose economic meaning and significance is uncertain and dubious. (Even wheat is approximately homogeneous only if measured in economic terms.) And a similar statement would even apply more to other social sciences. In this field, the Kelvin dictum very largely means in practice, 'if you cannot measure, measure anyhow!'

When Lord Kelvin was in this country [U.S.], he said that nothing interested him so much as Mr. Hewitt's work and his vacuum lamp.
Referring to the mercury lamp invention.

Geologists have not been slow to admit that they were in error in assuming that they had an eternity of past time for the evolution of the earth's history. They have frankly acknowledged the validity of the physical arguments which go to place more or less definite limits to the antiquity of the earth. They were, on the whole, disposed to acquiesce in the allowance of 100 millions of years granted to them by Lord Kelvin, for the transaction of the whole of the long cycles of geological history. But the physicists have been insatiable and inexorable. As remorseless as Lear's daughters, they have cut down their grant of years by successive slices, until some of them have brought the number to something less than ten millions. In vain have the geologists protested that there must somewhere be a flaw in a line of argument which tends to results so entirely at variance with the strong evidence for a higher antiquity, furnished not only by the geological record, but by the existing races of plants and animals. They have insisted that this evidence is not mere theory or imagination, but is drawn from a multitude of facts which become hopelessly unintelligible unless sufficient time is admitted for the evolution of geological history. They have not been able to disapprove the arguments of the physicists, but they have contended that the physicists have simply ignored the geological arguments as of no account in the discussion.

I came into the room, which was half dark, and presently spotted Lord Kelvin in the audience and realised that I was in for trouble at the last part of my speech dealing with the age of the earth, where my views conflicted with his. To my relief, Kelvin fell fast asleep, but as I came to the important point, I saw the old bird sit up, open an eye and cock a baleful glance at me! Then a sudden inspiration came, and I said Lord Kelvin had limited the age of the earth, provided no new source (of energy) was discovered. That prophetic utterance refers to what we are now considering tonight, radium! Behold! the old boy beamed upon me.

Lord Kelvin was so satisfied with this triumph of science that he declared himself to be as certain of the existence of the ether as a man can be about anything.... "When you can measure what you are speaking about, and express it in numbers, you know something about it...." Thus did Lord Kelvin lay down the law. And though quite wrong, this time he has the support of official modern Science. It is NOT true that when you can measure what you are speaking about, you know something about it. The fact that you can measure something doesn't even prove that that something exists.... Take the ether, for example: didn't they measure the ratio of its elasticity to its density?

You and I are just about fit to mend his pens.
[About the young William Thomson (later Lord Kelvin.)]

Why are atoms so small? ... Many examples have been devised to bring this fact home to an audience, none of them more impressive than the one used by Lord Kelvin: Suppose that you could mark the molecules in a glass of water, then pour the contents of the glass into the ocean and stir the latter thoroughly so as to distribute the marked molecules uniformly throughout the seven seas; if you then took a glass of water anywhere out of the ocean, you would find in it about a hundred of your marked molecules.

The age of the earth was thus increased from a mere score of millions [of years] to a thousand millions and more, and the geologist who had before been bankrupt in time now found himself suddenly transformed into a capitalist with more millions in the bank than he knew how to dispose of ... More cautious people, like myself, too cautious, perhaps, are anxious first of all to make sure that the new [radioactive] clock is not as much too fast as Lord Kelvin's was too slow.

The story is told of Lord Kelvin, a famous Scotch physicist of the last century, that after he had given a lecture on atoms and molecules, one of his students came to him with the question, "Professor, what is your idea of the structure of the atom."
"What," said Kelvin, "The structure of the atom? Why, don't you know, the very word 'atom' means the thing that can't be cut. How then can it have a structure?"
"That," remarked the facetious young man, "shows the disadvantage of knowing Greek."