(source)

Rosalind Franklin

(25 Jul 1920 - 16 Apr 1958)




Science Quotes by Rosalind Franklin
(8 quotes)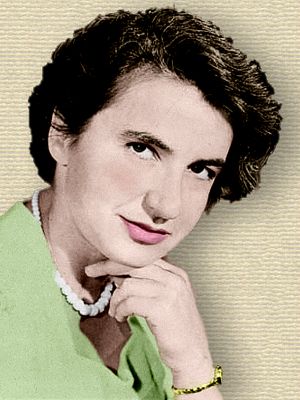 Conclusion: Big helix in several chains, phosphates on outside, phosphate-phosphate inter-helical bonds disrupted by water. Phosphate links available to proteins.

— Rosalind Franklin

I see no reason to believe that a creator of protoplasm or primeval matter, if such there be, has any reason to be interested in our insignificant race in a tiny corner of the universe, and still less in us, as still more insignificant individuals. Again, I see no reason why the belief that we are insignificant or fortuitous should lessen our faith.

— Rosalind Franklin

Science, for me, gives a partial explanation for life. In so far as it goes, it is based on fact, experience and experiment.

— Rosalind Franklin

Sodium thymonucleate fibres give two distinct types of X-ray diagram … [structures A and B]. The X-ray diagram of structure B (see photograph) shows in striking manner the features characteristic of helical structures, first worked out in this laboratory by Stokes (unpublished) and by Crick, Cochran and Vand2. Stokes and Wilkins were the first to propose such structures for nucleic acid as a result of direct studies of nucleic acid fibres, although a helical structure had been previously suggested by Furberg (thesis, London, 1949) on the basis of X-ray studies of nucleosides and nucleotides.
While the X-ray evidence cannot, at present, be taken as direct proof that the structure is helical, other considerations discussed below make the existence of a helical structure highly probable.

— Rosalind Franklin

The results suggest a helical structure (which must be very closely packed) containing probably 2, 3 or 4 coaxial nucleic acid chains per helical unit and having the phosphate groups near the outside.

— Rosalind Franklin

You frequently state, and in your letter you imply, that I have developed a completely one-sided outlook and look at everything and think of everything in terms of science. Obviously my method of thought and reasoning is influenced by a scientific training—if that were not so my scientific training will have been a waste and a failure.

— Rosalind Franklin

You look at science (or at least talk of it) as some sort of demoralising invention of man, something apart from real life, and which must be cautiously guarded and kept separate from everyday existence. But science and everyday life cannot and should not be separated.

— Rosalind Franklin

Your theories are those which you and many other people find easiest and pleasantest to believe, but, so far as I can see, they have no foundation other than they lead to a pleasant view of life … I agree that faith is essential to success in life … but I do not accept your definition of faith, i.e. belief in life after death. In my view, all that is necessary for faith is the belief that by doing our best we shall come nearer to success and that success in our aims (the improvement of the lot of mankind, present and future) is worth attaining … I maintain that faith in this world is perfectly possible without faith in another world.

— Rosalind Franklin

---
Quotes by others about Rosalind Franklin (7)
As a scientist Miss [Rosalind] Franklin was distinguished by extreme clarity and perfection in everything she undertook. Her photographs are among the most beautiful X-ray photographs of any substance ever taken.

She would have solved it, but it would have come out in stages. For the feminists, however, she has become a doomed heroine, and they have seized upon her as an icon, which is not, of course, her fault. Rosalind was not a feminist in the ordinary sense, but she was determined to be treated equally like anybody else.

She discovered in a series of beautifully executed researches the fundamental distinction between carbons that turned on heating into graphite and those that did not. Further she related this difference to the chemical constitution of the molecules from which carbon was made. She was already a recognized authority in industrial physico-chemistry when she chose to abandon this work in favour of the far more difficult and more exciting fields of biophysics.

Our dark lady is leaving us next week.

I think she [Rosalind Franklin] was a good experimentalist but certainly not of the first rank. She was simply not in the same class as Eigen or Bragg or Pauling, nor was she as good as Dorothy Hodgkin. She did not even select DNA to study. It was given to her. Her theoretical crystallography was very average.

Her [Rosalind Franklin] devotion to research showed itself at its finest in the last months of her life. Although stricken with an illness which she knew would be fatal, she continued to work right up to the end.

While the biological properties of deoxypentose nucleic acid suggest a molecular structure containing great complexity, X-ray diffraction studies described here … show the basic molecular configuration has great simplicity. [Co-author with A.R. Stokes, H.R. Wilson. Thanks include to "… our colleagues R.E. Franklin, R.G. Gosling … for discussion."]