(source)

Benjamin Franklin

(17 Jan 1706 - 17 Apr 1790)




Science Quotes by Benjamin Franklin
(53 quotes)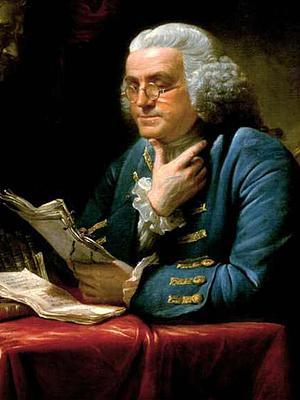 Benjamin Franklin
Painting by David Martin (1767).
(source)
A fat kitchin, a lean Will.

— Benjamin Franklin

A learned blockhead is a greater blockhead than an ignorant one.

— Benjamin Franklin

A Man of Knowledge like a rich Soil, feeds
If not a world of Corn, a world of Weeds.

— Benjamin Franklin

A new truth is a truth, an old error is an error.

— Benjamin Franklin

Against Diseases here, the strongest Fence,
Is the defensive Virtue, Abstinence.

— Benjamin Franklin

An infallible Remedy for the Tooth-ach, viz Wash the Root of an aching Tooth, in Elder Vinegar, and let it dry half an hour in the Sun; after which it will never ach more; Probatum est.

— Benjamin Franklin

An iron rod being placed on the outside of a building from the highest part continued down into the moist earth, in any direction strait or crooked, following the form of the roof or other parts of the building, will receive the lightning at its upper end, attracting it so as to prevent it's striking any other part; and, affording it a good conveyance into the earth, will prevent its damaging any part of the building.

— Benjamin Franklin

And we daily in our experiments electrise bodies plus or minus, as we think proper. [These terms we may use till your Philosophers give us better.] To electrise plus or minus, no more needs to be known than this, that the parts of the Tube or Sphere, that are rubb'd, do, in the Instant of Friction, attract the Electrical Fire, and therefore take it from the Thin rubbing; the same parts immediately, as the Friction upon them ceases, are disposed to give the fire they have received, to any Body that has less.

— Benjamin Franklin

At length being at Clapham where there is, on the common, a large pond which, I observed to be one day very rough with the wind, I fetched out a cruet of oil and dropt a little of it on the water. I saw it spread itself with surprising swiftness upon the surface; but the effect of smoothing the waves was not produced; for I had applied it first on the leeward side of the pond, where the waves were largest, and the wind drove my oil back upon the shore. I then went to the windward side, where they began to form; and there the oil, though not more than a tea-spoonful, produced an instant calm over a space several yards square, which spread amazingly, and extended itself gradually till it reached the leeside, making all that quarter of the pond, perhaps half an acre, as smooth as a looking-glass.
[Experiment to test an observation made at sea in 1757, when he had seen the wake of a ship smoothed, explained by the captain as presumably due to cooks emptying greasy water in to the sea through the scuppers.]

— Benjamin Franklin

Be not sick too late, nor well too soon.

— Benjamin Franklin

Be temperate in wine, in eating, girls, & sloth;
Or the Gout will seize you and plague you both.

— Benjamin Franklin

Beware of the young Doctor, & the old Barber.

— Benjamin Franklin

Certainlie these things agree,
The Priest, the Lawyer, & Death all three:
Death takes both the weak and the strong.
The lawyer takes from both right and wrong,
And the priest from living and dead has his Fee.

— Benjamin Franklin

Chagrined a little that we have been hitherto able to produce nothing in this way of use to mankind; and the hot weather coming on, when electrical experiments are not so agreeable, it is proposed to put an end to them for this season, somewhat humorously, in a party of pleasure, on the banks of Skuylkil. Spirits, at the same time, are to be fired by a spark sent from side to side through the river, without any other conductor that the water; an experiment which we some time since performed, to the amazement of many. A turkey is to be killed for our dinner by the electrified bottle: when the healths of all the famous electricians in England, Holland, France, and Germany are to be drank in electrified bumpers, under the discharge of guns from the electrical battery.

— Benjamin Franklin

Cheese and salt meat, should be sparingly eat.

— Benjamin Franklin

Dangerous, therefore, is it to take shelter under a tree, during a thunder-gust. It has been fatal to many, both men and beasts.

— Benjamin Franklin

Don't go to the doctor with every distemper, nor to the lawyer with every quarrel, nor to the pot for every thirst.

— Benjamin Franklin

Don't misinform your Doctor nor your Lawyer.

— Benjamin Franklin

Early to bed and early to rise, makes a man healthy wealthy and wise.

— Benjamin Franklin

Eat to live, and not live to eat.

— Benjamin Franklin

God heals, and the Doctor takes the Fees.

— Benjamin Franklin

He that drinks his Cyder alone, let him catch his Horse alone.

— Benjamin Franklin

He's a Fool that makes his Doctor his Heir.

— Benjamin Franklin

He's the best physician that knows the worthlessness of the most medicines.

— Benjamin Franklin

Hot things, sharp things, sweet things, cold things
All rot the teeth, and make them look like old things.

— Benjamin Franklin

I always rejoice to hear of your being still employed in experimental researches into nature, and of the success you meet with. The rapid progress true science now makes, occasions my regretting sometimes that I was born so soon: it is impossible to imagine the height to which may be carried, in a thousand years, the power of man over matter; we may perhaps learn to deprive large masses of their gravity, and give them absolute levity for the sake of easy transport. Agriculture may diminish its labour and double its produce; all diseases may by sure means be prevented or cured (not excepting even that of old age), and our lives lengthened at pleasure even beyond the antediluvian standard. Oh! that moral science were in as fair a way of improvement; that men would cease to be wolves to one another; and that human beings would at length learn what they now improperly call humanity!

— Benjamin Franklin

I have never seen the Philosopher's Stone that turns lead into Gold, but I have known the pursuit of it turn a Man's Gold into Lead.

— Benjamin Franklin

I say it is impossible that so sensible a people [citizens of Paris], under such circumstances, should have lived so long by the smoky, unwholesome, and enormously expensive light of candles, if they had really known that they might have had as much pure light of the sun for nothing.
[Describing the energy-saving benefit of adopting daylight saving time. (1784)]

— Benjamin Franklin

In going on with these Experiments, how many pretty systems do we build, which we soon find ourselves oblig'd to destroy! If there is no other Use discover'd of Electricity, this, however, is something considerable, that it may help to make a vain Man humble.

— Benjamin Franklin

In New England they once thought blackbirds useless, and mischievous to the corn. They made efforts to destroy them. The consequence was, the blackbirds were diminished; but a kind of worm, which devoured their grass, and which the blackbirds used to feed on, increased prodigiously; then, finding their loss in grass much greater than their saving in corn, they wished again for their blackbirds.

— Benjamin Franklin

Let the experiment be made.

— Benjamin Franklin

Love, Cough, & a Smoke, can't well be hid.

— Benjamin Franklin

Many dishes many diseases,
Many medicines few cures.

— Benjamin Franklin

Our new Constitution is now established, and has an appearance that promises permanency; but in this world nothing can be said to be certain, except death and taxes.

— Benjamin Franklin

Some guns were fired to give notice that the departure of the balloon was near. ... Means were used, I am told, to prevent the great balloon's rising so high as might endanger its bursting. Several bags of sand were taken on board before the cord that held it down was cut, and the whole weight being then too much to be lifted, such a quantity was discharged as would permit its rising slowly. Thus it would sooner arrive at that region where it would be in equilibrio with the surrounding air, and by discharging more sand afterwards, it might go higher if desired. Between one and two o'clock, all eyes were gratified with seeing it rise majestically from above the trees, and ascend gradually above the buildings, a most beautiful spectacle. When it was about two hundred feet high, the brave adventurers held out and waved a little white pennant, on both sides of their car, to salute the spectators, who returned loud claps of applause. The wind was very little, so that the object though moving to the northward, continued long in view; and it was a great while before the admiring people began to disperse. The persons embarked were Mr. Charles, professor of experimental philosophy, and a zealous promoter of that science; and one of the Messrs Robert, the very ingenious constructors of the machine.
While U.S. ambassador to France, writing about witnessing, from his carriage outside the garden of Tuileries, Paris, the first manned balloon ascent using hydrogen gas on the afternoon of 1 Dec 1783. A few days earlier, he had watched the first manned ascent in Montgolfier's hot-air balloon, on 21 Nov 1783.

— Benjamin Franklin

Some men grow mad by studying much to know,
But who grows mad by studying good to grow.

— Benjamin Franklin

The bell ringing for church, we went thither immediately, and with hearts full of gratitude, returned sincere thanks to God for the mercies we had received: were I a Roman Catholic, perhaps I should on this occasion vow to build a chapel to some saint, but as I am not, if I were to vow at all, it should be to build a light-house. [Upon narrowly missing a shipwreck on the Scilly rocks.]
[Frequently seen summarized as, though not Franklin's own wording: Lighthouses are more helpful than churches.

— Benjamin Franklin

The best of all medicines are rest and fasting.

— Benjamin Franklin

The body of Benjamin Franklin, Printer (like the cover of an old book, its contents torn out and stripped of its lettering and gilding), lies here, food for worms; but the work shall not be lost, for it will (as he believed) appear once more in a new and more elegant edition, revised and corrected by the Author.

— Benjamin Franklin

The electrical matter consists of particles extremely subtile, since it can permeate common matter, even the densest metals, with such ease and freedom as not to receive any perceptible resistance.
If anyone should doubt whether the electrical matter passes through the substance of bodies, or only over along their surfaces, a shock from an electrified large glass jar, taken through his own body, will probably convince him.
Electrical matter differs from common matter in this, that the parts of the latter mutually attract, those of the former mutually repel each other.

— Benjamin Franklin

The eye of the master will do more work than both his hands.

— Benjamin Franklin

There's more old Drunkards than old Doctors.

— Benjamin Franklin

Time is a herb that cures all Diseases.

— Benjamin Franklin

To inquisitive minds like yours and mine the reflection that the quantity of human knowledge bears no proportion to the quantity of human ignorance must be in one view rather pleasing, viz., that though we are to live forever we may be continually amused and delighted with learning something new.

— Benjamin Franklin

To lengthen thy Life, lessen thy Meals.

— Benjamin Franklin

Use now and then a little Exercise a quarter of an Hour before Meals, as to swing a Weight, or swing your Arms about with a small Weight in each Hand; to leap, or the like, for that stirs the Muscles of the Breast.

— Benjamin Franklin

We hold these truths to be self-evident.
Franklin's edit to the assertion of religion in Thomas Jefferson's original wording, "We hold these truths to be sacred and undeniable" in a draft of the Declaration of Independence changes it instead into an assertion of rationality. The scientific mind of Franklin drew on the scientific determinism of Isaac Newton and the analytic empiricism of David Hume and Gottfried Leibniz. In what became known as "Hume's Fork" the latters' theory distinguished between synthetic truths that describe matters of fact, and analytic truths that are self-evident by virtue of reason and definition.

— Benjamin Franklin

What is a butterfly? At best
He's but a caterpiller drest.
The gaudy Fop's his picture just.

— Benjamin Franklin

What is the use of a new-born child?
When asked of the use of a new invention.

— Benjamin Franklin

What signifies Philosophy that does not apply to some Use? May we not learn from hence, that black Clothes are not so fit to wear in a hot Sunny Climate or Season, as white ones; because in such Cloaths the Body is more heated by the Sun when we walk abroad, and are at the same time heated by the Exercise, which double Heat is apt to bring on putrid dangerous Fevers? The Soldiers and Seamen, who must march and labour in the Sun, should in the East or West Indies have an Uniform of white?

— Benjamin Franklin

When the well's dry, we know the worth of water.

— Benjamin Franklin

Wouldst thou enjoy a long Life, a healthy Body, and a vigorous Mind, and be acquainted also with the wonderful Works of God? labour in the first place to bring thy Appetite into Subjection to Reason.

— Benjamin Franklin

[Franklin always found it a] pleasure ... to see good workmen handle their tools.

— Benjamin Franklin

---
Quotes by others about Benjamin Franklin (10)
Whilst I am writing to a Philosopher and a Friend, I can scarcely forget that I am also writing to the greatest Statesman of the present, or perhaps of any century, who spread the happy contagion of Liberty among his countrymen.

Eripuit coelo fulmen sceptrumque tyrannis.
He snatched the lightning from the sky and the sceptre from tyrants.
Admiring Benjamin Franklin in a letter to Samuel P. du Pont, c. 1779.

People will accept your idea much more readily if you tell them Benjamin Franklin said it first

The faith of scientists in the power and truth of mathematics is so implicit that their work has gradually become less and less observation, and more and more calculation. The promiscuous collection and tabulation of data have given way to a process of assigning possible meanings, merely supposed real entities, to mathematical terms, working out the logical results, and then staging certain crucial experiments to check the hypothesis against the actual empirical results. But the facts which are accepted by virtue of these tests are not actually observed at all. With the advance of mathematical technique in physics, the tangible results of experiment have become less and less spectacular; on the other hand, their significance has grown in inverse proportion. The men in the laboratory have departed so far from the old forms of experimentation—typified by Galileo's weights and Franklin's kite—that they cannot be said to observe the actual objects of their curiosity at all; instead, they are watching index needles, revolving drums, and sensitive plates. No psychology of 'association' of sense-experiences can relate these data to the objects they signify, for in most cases the objects have never been experienced. Observation has become almost entirely indirect; and readings take the place of genuine witness.

It is impossible not to feel stirred at the thought of the emotions of man at certain historic moments of adventure and discovery—Columbus when he first saw the Western shore, Pizarro when he stared at the Pacific Ocean, Franklin when the electric spark came from the string of his kite, Galileo when he first turned his telescope to the heavens. Such moments are also granted to students in the abstract regions of thought, and high among them must be placed the morning when Descartes lay in bed and invented the method of co-ordinate geometry.

ELECTRICITY, n. The power that causes all natural phenomena not known to be caused by something else. It is the same thing as lightning, and its famous attempt to strike Dr. Franklin is one of the most picturesque incidents in that great and good man's career. The memory of Dr. Franklin is justly held in great reverence, particularly in France, where a waxen effigy of him was recently on exhibition, bearing the following touching account of his life and services to science:
Monsieur Franqulin, inventor of electricity. This illustrious savant, after having made several voyages around the world, died on the Sandwich Islands and was devoured by savages, of whom not a single fragment was ever recovered.
Electricity seems destined to play a most important part in the arts and industries. The question of its economical application to some purposes is still unsettled, but experiment has already proved that it will propel a street car better than a gas jet and give more light than a horse.

When Benjamin Franklin invented the lightning-rod, the clergy, both in England and America, with the enthusiastic support of George III, condemned it as an impious attempt to defeat the will of God. For, as all right-thinking people were aware, lightning is sent by God to punish impiety or some other grave sin—the virtuous are never struck by lightning. Therefore if God wants to strike any one, Benjamin Franklin [and his lightning-rod] ought not to defeat His design; indeed, to do so is helping criminals to escape. But God was equal to the occasion, if we are to believe the eminent Dr. Price, one of the leading divines of Boston. Lightning having been rendered ineffectual by the 'iron points invented by the sagacious Dr. Franklin,' Massachusetts was shaken by earthquakes, which Dr. Price perceived to be due to God's wrath at the 'iron points.' In a sermon on the subject he said,' In Boston are more erected than elsewhere in New England, and Boston seems to be more dreadfully shaken. Oh! there is no getting out of the mighty hand of God.' Apparently, however, Providence gave up all hope of curing Boston of its wickedness, for, though lightning-rods became more and more common, earthquakes in Massachusetts have remained rare.

My ideal man is Benjamin Franklin—the figure in American history most worthy of emulation ... Franklin is my ideal of a whole man. ... Where are the life-size—or even pint-size—Benjamin Franklins of today?

As every circumstance relating to so capital a discovery as this (the greatest, perhaps, that has been made in the whole compass of philosophy, since the time of Sir Isaac Newton) cannot but give pleasure to all my readers, I shall endeavour to gratify them with the communication of a few particulars which I have from the best authority. The Doctor [Benjamin Franklin], after having published his method of verifying his hypothesis concerning the sameness of electricity with the matter lightning, was waiting for the erection of a spire in Philadelphia to carry his views into execution; not imagining that a pointed rod, of a moderate height, could answer the purpose; when it occurred to him, that, by means of a common kite, he could have a readier and better access to the regions of thunder than by any spire whatever. Preparing, therefore, a large silk handkerchief, and two cross sticks, of a proper length, on which to extend it, he took the opportunity of the first approaching thunder storm to take a walk into a field, in which there was a shed convenient for his purpose. But dreading the ridicule which too commonly attends unsuccessful attempts in science, he communicated his intended experiment to no body but his son, who assisted him in raising the kite.
The kite being raised, a considerable time elapsed before there was any appearance of its being electrified. One very promising cloud passed over it without any effect; when, at length, just as he was beginning to despair of his contrivance, he observed some loose threads of the hempen string to stand erect, and to avoid one another, just as if they had been suspended on a common conductor. Struck with this promising appearance, he inmmediately presented his knuckle to the key, and (let the reader judge of the exquisite pleasure he must have felt at that moment) the discovery was complete. He perceived a very evident electric spark. Others succeeded, even before the string was wet, so as to put the matter past all dispute, and when the rain had wetted the string, he collected electric fire very copiously. This happened in June 1752, a month after the electricians in France had verified the same theory, but before he had heard of any thing that they had done.

When Franklin drew the lightning from the clouds, he little dreamed that in the evolution of science his discovery would illuminate the torch of Liberty for France and America. The rays from this beacon, lighting this gateway to the continent, will welcome the poor and the persecuted with the hope and promise of homes and citizenship.

See also:
17 Jan - short biography, births, deaths and events on date of Franklin's birth.
Benjamin Franklin: An American Life, by Walter Isaacson. - book suggestion.
Booklist for Benjamin Franklin.