(source)

Thomas Edison

(11 Feb 1847 - 18 Oct 1931)




Science Quotes by Thomas Edison
(14 quotes)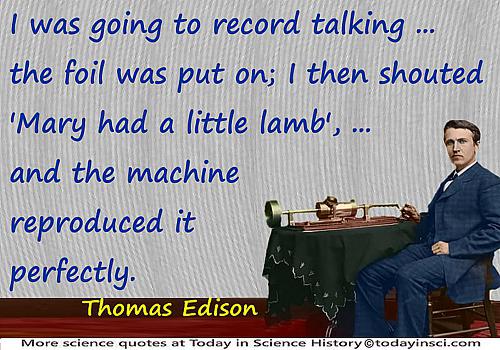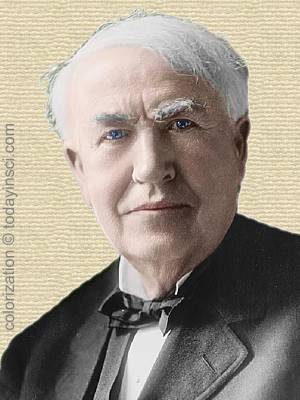 Genius is two percent inspiration, ninety-eight percent perspiration.

— Thomas Edison

I am afraid of radium and polonium ... I don't want to monkey with them.

— Thomas Edison

I have a peculiar theory about radium, and I believe it is the correct one. I believe that there is some mysterious ray pervading the universe that is fluorescing to it. In other words, that all its energy is not self-constructed but that there is a mysterious something in the atmosphere that scientists have not found that is drawing out those infinitesimal atoms and distributing them forcefully and indestructibly.

— Thomas Edison

I told [Kruesi] I was going to record talking, and then have the machine talk back. He thought it absurd. However, it was finished, the foil was put on; I then shouted 'Mary had a little lamb', etc. I adjusted the reproducer, and the machine reproduced it perfectly.
On first words spoken on a phonograph.

— Thomas Edison

I was always afraid of things that worked the first time. Long experience proved that there were great drawbacks found generally before they could be got commercial; but here was something there was no doubt of.
[Recalling astonishment when his tin-foil cylinder phonograph first played back his voice recording of "Mary had a little lamb."]

— Thomas Edison

It has been just so in all my inventions. The first step is an intuition—and comes with a burst, then difficulties arise. This thing that gives out and then that—"Bugs"as such little faults and difficulties are called show themselves and months of anxious watching, study and labor are requisite before commercial success—or failure—is certainly reached.
[Describing his invention of a storage battery that involved 10,296 experiments. Note Edison's use of the term "Bug" in the engineering research field for a mechanical defect greatly predates the use of the term as applied by Admiral Grace Murray Hopper to a computing defect upon finding a moth in the electronic mainframe.]

— Thomas Edison

It is very different to make a practical system and to introduce it. A few experiments in the laboratory would prove the practicability of system long before it could be brought into general use. You can take a pipe and put a little coal in it, close it up, heat it and light the gas that comes out of the stem, but that is not introducing gas lighting. I'll bet that if it were discovered to-morrow in New York that gas could be made out of coal it would be at least five years before the system would be in general use.

— Thomas Edison

Oh these mathematicians make me tired! When you ask them to work out a sum they take a piece of paper, cover it with rows of A's, B's, and X's and Y's ... scatter a mess of flyspecks over them, and then give you an answer that's all wrong!

— Thomas Edison

Problems in human engineering will receive during the coming years the same genius and attention which the nineteenth century gave to the more material forms of engineering.
We have laid good foundations for industrial prosperity, now we want to assure the happiness and growth of the workers through vocational education, vocational guidance, and wisely managed employment departments. A great field for industrial experimentation and statemanship is opening up.

— Thomas Edison

The injurious agent in cigarettes comes principally from the burning paper wrapper. The substance thereby formed is called "acrolein." It has a violent action on the nerve centers, producing degeneration of the cells of the brain, which is quite rapid among boys. Unlike most narcotics, this degeneration is permanent and uncontrollable. I employ no person who smokes cigarettes.
[From the Laboratory of Thomas A. Edison, Orange, N.J., April 26, 1914.]

— Thomas Edison

Until man duplicates a blade of grass, nature can laugh at his so-called scientific knowledge.

— Thomas Edison

We are like tenant farmers chopping down the fence around our house for fuel when we should be using Natures inexhaustible sources of energy — sun, wind and tide. ... I'd put my money on the sun and solar energy. What a source of power! I hope we don't have to wait until oil and coal run out before we tackle that.

— Thomas Edison

What we call man is a mechanism made up of … uncrystallized matter … all the colloid matter of his mechanism is concentrated in a countless number of small cells. … [T]hese cells [are] dwelling places, communes, a walled town within which are many citizens. ... [T]hese are the units of life and when they pass out into space man as we think we know him is dead, a mere machine from which the crew have left,so to speak. ... [T]hese units are endowed with great intelligence. They have memories, they must be divided into countless thousands of groups, most are workers, there are directing groups. Some are chemists, they manufacture the most complicated chemicals that are secreted by the glands.

— Thomas Edison

X-rays ... I am afraid of them. I stopped experimenting with them two years ago, when I came near to losing my eyesight and Dally, my assistant practically lost the use of both of his arms.

— Thomas Edison

---
Quotes by others about Thomas Edison (6)
The attitude which the man in the street unconsciously adopts towards science is capricious and varied. At one moment he scorns the scientist for a highbrow, at another anathematizes him for blasphemously undermining his religion; but at the mention of a name like Edison he falls into a coma of veneration. When he stops to think, he does recognize, however, that the whole atmosphere of the world in which he lives is tinged by science, as is shown most immediately and strikingly by our modern conveniences and material resources. A little deeper thinking shows him that the influence of science goes much farther and colors the entire mental outlook of modern civilised man on the world about him.

When I examine the conclusion [on experiments with the electric light bulb experiments published in the Herald] which everyone acquainted with the subject will recognize as a conspicuous failure, trumpeted as a wonderful success, I [conclude]... that the writer ... must either be very ignorant, and the victim of deceit, or a conscious accomplice in what is nothing less than a fraud upon the public.

Mr. Thomas A. Edison recently came into this office, placed a little machine on our desk, turned a crank, and the machine enquired as to our health, asked how we liked the phonograph, informed us that it was well, and bid us a cordial good night. These remarks were not only perfectly audible to ourselves, but to a dozen or more persons gathered around.

If Thomas Edison had gone to business school, we would all be reading by larger candles.

Mr Edison gave America just what was needed at that moment in history. They say that when people think of me, they think of my assembly line. Mr. Edison, you built an assembly line which brought together the genius of invention, science and industry.

Is science visionary? Is it not the hardest-headed intellectual discipline we know? How, then, does science look at this universe? Always as a bundle of possibilities. Habitually the scientist looks at this universe and every area in it as a bundle of possibilities, with no telling what might come if we fulfilled the conditions. Thomas Edison was no dreamer. He was a seer. The possibilities that he brought out were factually there. They were there before he saw them. They would have been there if he never had seen them. Always the possibilities are part of the actualities in any given situation.